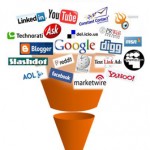 Inbound Marketing
Even though inbound marketing is a term that is gaining rapid popularity among marketing professionals it is still not a term that most business owners are familiar with. So if you are wondering what is inbound marketing your are not alone. The term does not really describe something entirely new, inbound marketing practices have been around for as long as marketing has been around. The term however, is relatively new and was coined to describe marketing activities that involve earning the attention of prospects via producing and sharing value and by making a website easy to be found easier. It is a term primarily used in digital marketing, however the essence of the concept of inbound marketing can be seen as simply creating and shared value online. A business can benefit directly and indirectly by sharing value with prospects, clients and its surrounding social environment.
When it comes to digital marketing, this process translates to creating and sharing helpful content through the channels of social media and search. Overall, the three core elements of inbound marketing are content creation, search marketing, and social media. Value creation and sharing brings better and more qualified leads into a company's sales funnel. The reason being that as prospects interact with your sales funnel they are better educated about your services and have already gained from your efforts. As a result it is easier for a company to convert visitors to leads and in turn leads to sales.
When executed properly, an inbound marketing system can produce qualified leads consistently. Unfortunately, it is not a set-and-forget approach. It requires continuous care in order to produce results over time.
Traditional vs Inbound Marketing
Traditional marketing is interruptive. Most messages are conveyed at times when the target audience is doing something else such as watching television or driving. Inbound marketing is a process that presents the message to an audience when that audience is already in the frame of mind of finding a solution or even looking for that specific product or service.
Inbound marketing has several key elements. Elements which are becoming essential for marketing any service or product today.
Inbound Marketing Elements
Content Creation
Creating value is the key element behind content creation. Obviously the content must be relevant and of high quality. Think of producing content in terms of not only education your prospects but also in terms of pre-qualifying them. This content can take the form of informational articles, how-to guides, or even creative presentation of research. The content should aim to help your target market achieve their goals and overcome challenges. In turn it needs to be optimized so people can find it and shared so people can read it and in turn share it. Content marketing ideas relate to the specifics of a business model and the preferred channels of communication that a business owner or company is most comfortable with. Remember, creating content is not about selling your services or products. It is about creating value for your target audience. There is no one size-fits-all solution when it comes to writing and publishing value. Every industry is different, and so are business cultures, and target audiences.
The content your produce is the lifeblood of your inbound marketing efforts. It
Optimization for Search
A key element in every inbound marketing campaign is search engine optimization. Search engines are the most commonly used tool to find information online. Whether that information is about products, services, news or entertainment search engines categorize the world wide web using complex algorithms that rank websites based on how relevant a source of information is to a query. The complexity of these algorithms increases year by year and today what makes websites rank higher than other is a complex combination of relevancy, popularity and credibility.
While you might have the best content, offer or service in the world, if a website does not follow the complex guidelines that search engines require, it does not have good relevant content, it is not popular and is not a credible source of information, it will not appear in search results.
Due to the competitive nature of the online marketplace, these days optimization goes far beyond the number of back-links, optimized meta tags and titles. It is about value, quality and legitimacy. Ranking higher involves presenting information in user friendly ways, having clean and logical websites structure and it depends on gaining "votes of confidence" from others around the web.
Optimized websites and local directory listings can work very well for local lead generation.
Social Media
Think of social media as a channel of communication that you own. A blog, mobile site, a twitter account, or a Facebook page. Not all such media are fully owned. A blog or website can be fully owned whereas a Facebook page or Twitter account are partially owned. Regardless, in all of these cases you can direct the conversations with your content.
Social media are about starting conversations and building trust around your brand. It is the channel in which you can grow and nurture a community around your services or products. It is also where your audience can interact with your brand. This interaction can be both positive or negative so there is a need to be diligent. If your message is valuable it can spark positive conversations that engage.
Proper communication through social media allows for longer-term relationships with existing or potential customers. Working on building an audience around social media can allow for more reviews, buzz, transparent communications, greater reach, more leads and more sales.
Benefits of Inbound Marketing
Inbound marketing-focused businesses have a lower cost per lead than traditional outbound-focused businesses. It is a long term strategy that enables businesses to interact with prospects on multiple touch points allowing for a two-way interaction with customers. It is more effective than traditional marketing as it engages prospects when they are actually looking for a solution to a problem, a product or a service. Consequently, they are more likely to be engaged by the marketing efforts, more likely to become leads and more likely become a client. They are in most cases already pre-qualified.