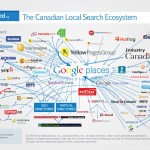 Local search algorithms are very similar to regular search engine algorithms. At the same time however, they are unique in many ways. In addition to looking at links, local search looks at mentions of businesses that appear with location related information. Search algorithms that categorize the internet are becoming more localized every year. This past year we have seen some significant changes in the relating to how Google categorizes information and many of them occurred in the realm of local search. Social, search and local are becoming increasingly intertwined and the driver behind these changes is mobile.
Google engineers have been busy filing new and implementing old patents in how Google's search algorithms work in local searches. They are working on teaching the company's streetview cars how to read, the ability to assigning reputation scores to reviewers, and just last week Google engineers were granted a new patent on blending local and regular internet results automatically in regular search results. The list of signs that search, social and local are becoming increasingly interdependent goes on with the implementation of rich snippets, micro formats, microdata, authorship and more.
Google + was launched year and it was integrated recently with google places and into Google Plus for Business in an attempt to turn the service into a brand hub. When someone finds your buiness on Google, they get the basic phone/address information, website as well as reviews of what people are saying abou your business. A sentiment pulled not only from Google properties, but also from other review sites such as yelp, and other local directories. The shift has been made with the goal of delivering local search results with reviews from real users in one place. At the same time the local search "ecosystem" is evolving rapidly with local directories, aggregators, engines, geo and vertical directories, and niche portals launching every day in Canada.
What Does It Mean For Your Business
It means that you need to take the necessary steps to integrate your social and local profiles properly, make sure you have all the correct information on all these profiles and make sure you engage your audience. If you do not do so your site will lag behind competing ones. This integration also creates opportunities for generating more traffic and more leads using the internet. Businesses that are listed higher in local results, are featured higher in search engine result pages and in mobile search pages. Also, the greater number of recommendations you get the better your rankings and conversions will be. So how do you go about ranking higher in local search? You need to optimize your local business listing.
Factors That Impact Rankings
Google does not make this information publicly available. The only way to get an idea of what contributes to higher rankings is by experimentation and by reading Google patent applications. Only then we can understand at least in which direction things are moving towards. A recent survey of professionals and experts in search outlines what is the industry sentiment towards what determines local search rankings. Generally speaking these factors have to do with how well the local business page has been optimized and how much of an authority the business website is perceived to be.
To sum up, social, local and search are becoming increasingly intertwined. The key to better local search rankings is consistency across all local, social and search. Search engines and social networks like Google and Facebook are both making efforts to take a piece of each other's business while both working towards integrating hyperlocal and hypersocial in their mainstream offerings. This is creating new opportunities for tech savvy business owners and making traditional low quality internet marketing strategies a thing of the past.