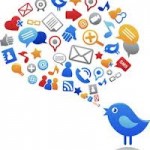 Up until recently, backlinks were the main factor that Google and the other search engines used to determine where they should rank a particular page in the search results. A link to your site was treated as a vote of confidence, and in a lot of cases it simply came down to whoever had the most votes (or backlinks) would be rewarded with the higher rankings.
These days much less emphasis is placed on the number of backlinks. There are actually over 100 different factors that Google uses to determine the quality of a website and where it should rank. While backlinks are
still important, it is the quality of the backlinks rather than the quantity that gets rewarded. While backlinks were previously looked upon as a vote in Googles eyes, social signals are fast becoming the new 'vote'.
If you take into consideration how much money, time and resources Google has dedicated to its own social network (Google +), it is a reasonable assumption that the importance of social signals and social votes is only going to increase as Google further refines its algorithm.
While Google + will obviously play a significant role in Google's eyes, it is important not to overlook the other social networking sites. These include Twitter, Facebook, Linkedin and Pinterest to name just a few. Adding these social sharing buttons to your website is certainly a step in the right direction, however there is still much more you can do if you are going to fully embrace the shift towards social signals.
All of these sharing buttons are quite useless if your visitors don't use them. The best way to encourage visitors to share your work is to write engaging content. Speak directly to your readers and connect with them, and also encourage them to share your content.
SEO is constantly evolving and right now, the shift is towards social signals. So if you haven't already done so, now is a very good time to focus more of your SEO efforts towards social signals.