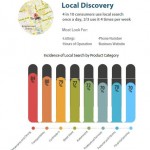 The forces that shape the ways we do business online are changing. Here is a lead generation infographic that outlines the ways we see the forces shaping local lead generation in 2013.
For Print-Friendly Version: Click Here

 The State of Lead Generation
Marketing and sales are becoming rapidly intertwined.The traditional sales funnels now extends beyond pre-determined conceptual boundaries.Prospects become qualified even before they reach sales material
Inbound Marketing 2.0
Consumers are using local and geo-targeted search to find business services, are influenced by social signals when making decisions, use mobile devices to search and expect to find what they are looking for immediately.
What's Driving Change
Increased Mobile Penetration (mobile)
Smart-phones allows for hyperlocal, hypersocial communications and interactions with brands
Improved Cross-Platform Integration
Social Media and Search are now intertwined
Some Recent Developments
Google Places Becomes Google+ Local
Google + Integration in search results
Facebook Open Graph open to developers
Twitter Tailored Trends
Linkedin Company Pages
Pinterest Business Accounts for Brands
Top Local Search Categories 2012
Restaurants
Financial Services
Auto Repair
Real Estate
Beauty Services
Physicians & Surgeons
Auto Parts
Building Contractors
Legal Services
Lodging
Local Discovery
4 in 10 consumers use local search once a day, 2/3 use it 4 times per week
Incidence of Local Search by Product Category
Restaurants and Dining 84%
Transportation: 80 %
Contractors: 79%
Retail Store: 77%
Automotive: 72
Professional Services: 70%
Personal and Fitness: 70%
Financial Services: 70%
Most Look For:
Listings
Hours of Operation
Phone Number
Business Website
Source: yp
Social Weight & Signals
33% of searchers seek social proof: consumer ratings and reviews
7 in 10 who read reviews share them with friends
97% who made a purchase based on an online review found the review to be accurate
46% of people feel they can be brutally honest on the Internet
38% aim to influence others when they express their preferences online.
Source: Comscore/The Kelsey Group, Oct. 2007
Social Content Sharing
More Canadians are spending more time on social networking sites
Facebook: +15% Visitors, +20% Minutes Spent
Twitter: +60% Visitors, +98% Minutes Spent
Linkedin: +39% Visitors, +70% Minutes Spent
Youtube: 179% rise in viewing intensity in 2012
They read, watch and share quality content
Source: comScore: 2012 Canadian Digital Future in Focus
Mobile in Canada
Smartphone penetration has reached 45%
Canadian Smartphone subscribers are accessing more mobile content
News and Information +43%
Social Networking and Blogs +40%
Search +30%
Lead Management
More than 70% of leads generated are wasted
Ignored by sales
Delayed response
Not qualified
Sales force uses outdated tactics
Interest fades faster, prospects just move on
Source: Forbes
Proper Communication
Consistent positioning across all touchpoints
Optimize what you already own
Earn the trust of your audience
Modernize your sales process
Owned Media
Facebook Page
Pinterest Account
Earned Media
Customers become the channel
Transparent and evergreen
Most credible
Can be in the form of reviews, blog posts, likes, re-tweets
Lead Management
Immediate response works
Responding within 5 minutes of a lead being generated leads to 21 times higher chances of qualifying
The odds of contacting a lead if called in 5 minutes versus 30 minutes drop 100 times
Communication must be consistent with all other brand touchpoints
Sources: Lead Response Study, Forbes
Opportunities
Optimized Local Listings
Local Page Creation and Optimization
Creating more optimized local listings in the most popular platforms
Get more reviews and citations
Use local listing pages to communicate with your circles
Be visual
Managed Social Media
Create content that your audience will share
Facebook
Twitter
Youtube
Tumbler
Expand your circle of influence
Mobile Optimization
Mobile friendly website
Responsive design
Geo-Location Data
Call Functionality
Inbound Communications
Respond fast to customers and prospects
Optimize your sales process
Properly qualify leads
Be consistent