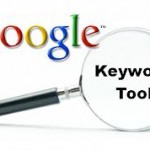 The first step to marketing one's business online is to properly identify the keywords to be used for either as ranking targets or for buying ads. Keywords are how searchers navigate the web and it is how search engines categorize web pages. Keyword research is the first step to any internet marketing campaign. The google keyword tool is an excellent and free tool to help with finding the right keywords to target.
1) The first step is signing in to Google Adwords by clicking on Tools and Analysis then Keyword Tool. For those with no Adwords account they setting up one is free. It is also important to note that it is possible to use this tool without having to sign in. However, signing in is better since one gets more comprehensive keyword data.
2) The next step is on Settings for Google Keyword Tool as follows:
i. On the Phrase or Word option key in list of your keyword ideas.
ii. On Website option enter URLs of your website.
iii. Category – Leave this option blank.
iv. Tick on the box with the option of only showing ideas which are closely related to your search terms.
v. On the Match Types option choose only exact.
vi. On the Location option choose your location
vii. On the languages options choose English.
viii. For the Devices options choose laptops and desktops.
ix. On the Keyword Ideas option choose Keyword ideas.
x. On Columns option chooses Local Monthly Searches.
xi. On the Sorted by option choose relevance.
xii. On the Number of results option choose 1-100.
3) The 3rd option is creating a list of about 25 keywords which describe your business i.e. what you sell. State both general and broad keywords then include the local regions you wish to target.
4) Include any list of keywords suggested by customers, friends, supplier or partners.
5) Key in list of keywords into the Phrase or Word option then click search.
6) After searching, the top list represents exact keywords which are displayed together with their local monthly search volume. Scroll down to the 2nd list which is named ideas then download 100 keyword ideas as CSV file.
7) Select 5 URLs from your website. Make sure one is the homepage while the rest represent important pages that mention your products.
8) Enter one of these URLs into the Website option then search.
9) Next download 100 keyword ideas in form of CSV file.
10) Search the 2nd URL to get the next 100 keyword ideas then download them and repeat this process for the remaining URLs.
11) Use spreadsheet program to open the six 6 .CSV files
12) Combine data in the six .CSV files to form one list of keywords together with search volumes.
13) Delete any duplicated entries.
14) Sort keywords through local monthly searches.
15) Delete all the keywords having a search volume of 25 and below.
16) Get rid of all keywords which are not relevant to you business.
17) Finally, delete all keywords that are not likely to promote your sales. At this point you should be having ten to a hundred keywords to target.
Links
https://adwords.google.com/o/KeywordTool